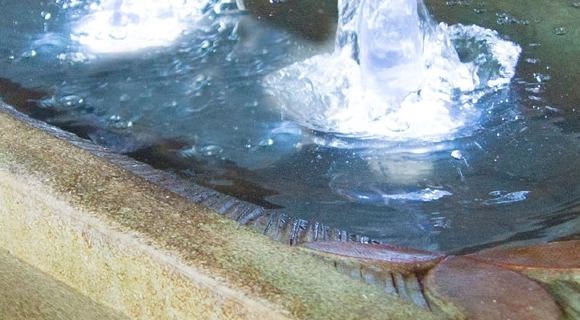 As we've all realized, relationships and being close with those we love are first and foremost in our lives. To that end, Henri Studio continues to provide the most diverse and original fountain statuary offerings, enhancing the living environments of families around the world! For 2022, we're adding 21 NEW HENRI STUDIO ORIGINALS! The creativity continues at Henri Studio….
■ Exuding power and strength, the Precipice Fountain has dramatic waterfalls which flow into narrow and reverberating basins. An original like no other!
■ The Modern Millstone Fountain redefines the traditional millstone concept with crisp edges and a wide up-lit plume of dancing water. A beautiful and serene addition to any garden landscape.
■ The Moroccan Urn Fountain features an intricate weave design that shimmers in the sunlight as the lighted plume casts gentle waves of water all around. A pondless version is also available.
■ A cousin to one of our most popular fountains, the Zen Two-bowl Fountain brings the hammered-metal look in a more compact design.
■ The Aura Fountain juxtaposes a craggy boulder merging with a modern elliptical bowl. Three dancing plumes of lighted water add a whimsical dimension to this unique artwork.
■ Our Cascading Urns Fountain highlights three uniquely designed urns spilling into a generous basin pool. Traditional in flow, yet contemporary in design.
■ A new take on a classic three-spill design, the Acadia Wall Fountain brings simple elegance and water action to your personal landscape.
■ At home at any garden setting, the Victoria Fountain is bejeweled with climbing vines and looks especially elegant in our relic frosted mocha finish.
■ Complementing our Grand Oak Bench, the Grand Oak Wall Fountain features a dramatically wide sheet of water with a beautifully outstretched oak tree as its backdrop.
■ Light and airy in appearance, the Summer Breeze Wall Fountain 's flowing reeds emanate the feeling of summer warmth along with the coolness of flowing water.
■ Complement your fire table with a dancing water table! The Malibu Fountain features three dancing pools of up-lit water, splashing into its elegant basin, bringing serenity both day and night.
■ Our Hampton Fountain features a contemporary design with a large bubbling sphere and two outwardly cascading spills, bringing lots of water action and sound to your outdoor environment.
■ Our Three Mushroom Bench has organic seating for three. Let this beautiful bench integrate with your landscape and provide a peaceful place of rest.
■ A piece of art, the nature-inspired Giant Leaf Bench has both form and function. It seats three comfortably and in very elegant style indeed!
■The Leaf Birdbaths blend in with nature, giving your feathered friends a welcoming and familiar place to rest and cool off.
■ The Water Lilies Birdbath features three separate bathing experiences. Or use one as a feeder! Now all your feathered friends will have their own personal space to chill.
■ The Bancroft Birdbath has a modern, square design and also inculdes a center platform for birds to light and relax.
■ Birds will truly feel at home in our new Birds Nest Birdbath. A center, circular resting area and ample room for many friends makes this one a classic.
■ Three charming bullfrogs are the focal point of our Three Frogs Birdbath. With outstretched arms, they hold everything in place so your birds can enjoy a cooling dip!
We wish you much outdoor enjoyment!
Temporibus autem quibusdam et aut officiis debitis aut rerum necessitatibus saepe eveniet ut et voluptates repudiandae sin et molestiae non recusandae. Itaque earum rerum hic tenetur a sapiente delectus, ut aut reiciendis voluptatibus maiores alias consequatur aut perferendis doloribus asperiores repellat.
Neque porro quisquam est, qui dolorem ipsum quia dolor sit amet, consectetur, adipisci velit, sed quia non numquam eius modi tempora incidunt ut labore et dolore magnam aliquam quaerat voluptatem. Ut enim ad minima veniam, quis nostrum exercitationem ullam corporis suscipit laboriosam, nisi ut aliquid ex ea commodi consequatur? Quis autem vel eum iure reprehenderit qui in ea voluptate velit esse quam nihil molestiae consequatur