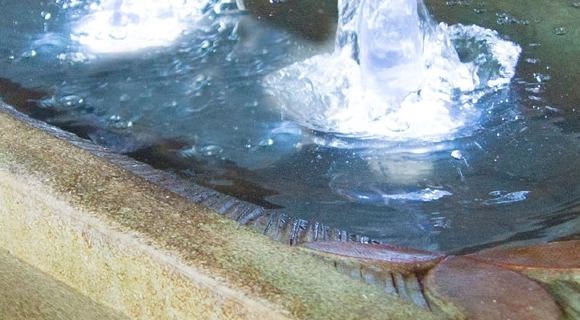 New products for 2020
Twenty new fountains highlight the 2020 season

With copper and lights abounding, the creativity continues at Henri
Studio with a full roll-out of 30 new product introductions. Our momentum continues to build as we provide the widest, most diverse and most original product offerings in the market.
Our Reflections Fountain features three expansive and lighted reflecting pools with wide copper spills providing soothing water flow for any landscape.
The Bauhaus Fountain is three levels of modern, cantilevered and lighted beauty; accented with six brilliant copper spills. Bauhaus design celebrates 100 years in 2019 and this is a fitting tribute.
Reaching upward in an asymmetrical fashion, the Aspire Fountain is both form and function. A beautiful piece of art, its glistening waters bring this ethereal element of nature to the forefront while the natural landscape can be seen beyond.
Our Pinnacle Fountain provides generous, sheeting water flow in an upright and compact, low-splash design. The up-lighting reflecting off trees will mesmerize the spirit
Also compact in design, our new Cascading Leaf Fountain plays off of the success of prior leaf fountains
The Terrazza Fountain is the angular counterpart to our ever-popular Alfresco Fountain. Made especially for those looking for straight line design.
Our Gathering Turtles Fountains, in both low and tall versions, fill out our line of popular bowl fountains. A family of five gathers around the water and light on a large African lily
The Lotus Fountains, also in low and tall versions, come in high-tone (HT) purple/yellow as well as other relic stains. The HT version will add a special pop of color to any garden!
Bringing fountains and plantings even closer, our Rainforest Wall Fountain combines a central plunging sheet of water with shelves on either side for your favorite plants or collectibles. A virtual rainforest in your outdoor space.
Four unique wall fountains offer wide copper spills and cascading water, each with its own unique theme. The Starry Night, Terrain, Bamboo and Northwoods Wall Fountains are sure to generate interest.
Our ever-popular Siena, now complemented by the Siena Cascade Fountain, gets an update with 32 carved spills and a new finial to provide the "perfect spill" look.
The Three-tier and Four-tier Buckingham Fountains put a "wide copper spill" twist on the traditional tiered fountain. We think you'll agree that this is a significant evolution of the art.
Our Luminaire Fountains, both Round and Square, elevate fountaineering to brand new heights. Fourteen discs, stacked and separated by acrylic rings, provide a literal floating appearance. Plus, changeable central lighting allows just the right nighttime ambiance.
Two pairs of square planters, Large Antiqued and Medium Antiqued and Large Shell and Medium Shell Planters offer generous planting area for larger installations.
"Tanner" the Ticklish Dragon brings our dragon collection to four, "Henri" the Hippo gives you a wry smile and "Luna" the Unicorn will add magic to any garden.
New Mascots include Texas Tech's Raider Red, the Clemson Tiger and the North Dakota State Bison.
We are blessed to be a part of this industry. And as always, we will continue to serve you with the best quality and design in outdoor fountains, statuary and bronze available in the marketplace.
Temporibus autem quibusdam et aut officiis debitis aut rerum necessitatibus saepe eveniet ut et voluptates repudiandae sin et molestiae non recusandae. Itaque earum rerum hic tenetur a sapiente delectus, ut aut reiciendis voluptatibus maiores alias consequatur aut perferendis doloribus asperiores repellat.
Neque porro quisquam est, qui dolorem ipsum quia dolor sit amet, consectetur, adipisci velit, sed quia non numquam eius modi tempora incidunt ut labore et dolore magnam aliquam quaerat voluptatem. Ut enim ad minima veniam, quis nostrum exercitationem ullam corporis suscipit laboriosam, nisi ut aliquid ex ea commodi consequatur? Quis autem vel eum iure reprehenderit qui in ea voluptate velit esse quam nihil molestiae consequatur